On this page you will find an assortment of items from Gatorbox that are currently available on eBay. This page will generally only be visible when we have active listings (as will the "!ebay" command with Nightbot in our Twitch channel). Expect this page to be offline for most of the time — we will announce when we have stuff on eBay. We are offering these pieces of ephemera through eBay as opposed to from us directly because they are either one of a kind or their values are difficult to ascertain, or both. We feel that it would be best to allow our fans and viewers to determine the values of these items.
International shipping is available however it will not be done through eBay's Global Shipping Program due to frequent reports of damaged/missing items from dozens of general sources. ("The Ol' Slash N' Dash", as DankPods calls it.) Instead, we will handle all necessary customs forms upon receipt of payment and the buyer will be responsible for any additional customs fees that they may or may not have to pay depending on their country of residence and the final value of the item(s).
In the event that multiple items are won, we will combine shipping if this is possible. Please wait for us to send you an invoice on eBay, however.
---
Super Mario Maker 2 "Online Edition" Cover Art — Autographed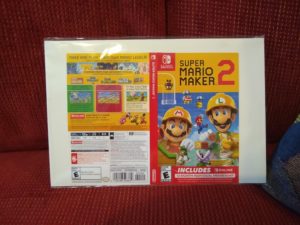 This is an authentic printing of the "Online Edition" Super Mario Maker 2 cover art, available only at the game's launch (and in some cases the physical edition was only offered via preorder). This is the cover art from the copy of the game used in Your Level SUCKS 2 and both the front and the inside art print on the obverse of the cover will be signed and personalized for the winning bidder.
.
Hand-drawn Super Mario Maker 2 Replacement Cover Art — Autographed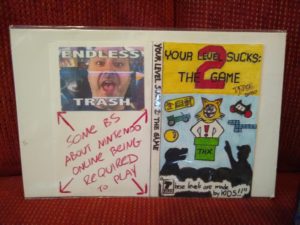 Streamed as part of our 9/4/2020 show, the creation of this item was watchable live on Twitch during that broadcast's "Gatorbox (of Crayons)" segment. The colors and line art have been touched up since that show's airing in order to make them more vibrant (this was not done live on the air due to time constraints). The cover is hand-drawn with Prismacolor pencils on standard posterboard paper stock. The art itself has already been signed, however the inside cover will be personalized for the winning bidder.
.
"Sh*tty Waluigi" Original Framed Drawing — Autographed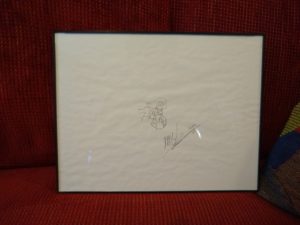 While not necessarily a part of Your Level SUCKS 2, this drawing of Waluigi is being included because of the character's place in the Mario universe. The drawing was created during a GatorUNbox segment where we opened up a Super Mario watch that had a slideshow projector hidden inside. When asked by viewers to trace one of the characters I settled on Waluigi. This quick minimalist sketch is the exact one from that stream and you can view its creation (and the rest of the unbox) HERE. It is drawn on standard 8.5 x 11″ printer paper, signed and dated, and mounted inside of a wall-ready frame with a sheet of cardstock behind it for extra padding to prevent any further wrinkling.
.
Screen-used COLA Can Prop — Autographed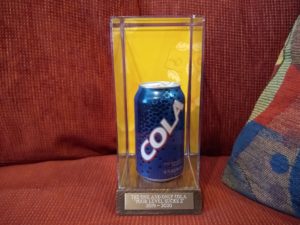 The joke of Gatorbox being "sponsored" by the nebulous "COLA Company" started in 2014 and has remained a staple gag in all of our main shows ever since. The actual company responsible for bottling this drink, Cott Beverages, closed in 2016 and production of the soda ceased. We'd been hanging onto a few empty cans of it for physical gags however, so we were able to continue the gag and keep it alive by way of filling the cans with water and using them on the show. This particular can was used during our 2018 and 2019 seasons meaning it was used in Your Level SUCKS 2 from June 2019 – December 2019. It has been cleaned and sterilized. The can comes with its own acrylic display case and a hand-made stained & sealed oak base with a felt bottom and custom engraved placard. The empty headspace above the can will be signed & personalized for the winning bidder.
.
Screen-used Kickstarter Pen & Magican Prop — Autographed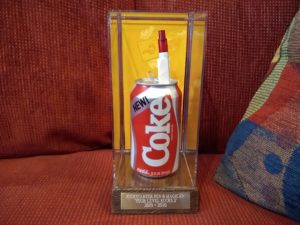 A few episodes into Your Level SUCKS 2 we began a running gag where I would hide the "Kickstarter Pen" that I used to write production notes with during taping of the show. The pen was named as such because it was literally obtained as a backer reward from a Kickstarter campaign and the prospect of receiving just a pen is a joke in and of itself. We had planned on selling the pen as a screen-used prop but didn't want to sell JUST a pen, so we decided to present the pen in a display that memorialized perhaps its best and most elaborate gag: The Coca-Cola Magican. Appearing in Collection #26, the setup was that we'd be drinking some New Coke, the can of which I promptly dropped on "accident". Out of sight of the camera were two more cans: a full can of regular soda and this prop setup. I opened the normal soda so viewers would hear the "hiss", then came back into the shot holding this monstrosity. The pen & can comes with their own acrylic display case and a hand-made stained & sealed oak base with a felt bottom and custom engraved placard. The empty headspace above the can will be signed & personalized for the winning bidder.
.
Framed Super Mario Maker 2 Store Display — Autographed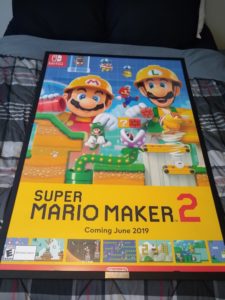 This is a genuine store display poster announcing the then-unreleased Super Mario Maker 2. This is the kind of in-store signage that would be used to not only announce the game but also entice customers to come inside and place a preorder; this particular sign came from a GameStop. The poster's frame is completely custom (custom-cut backside, polycarbonate front, and 4-piece matte black U-joint frame) and measures 34 x 49″. It features two sawtooth-style hangers mounted into its back to ensure a level and steady hang. At the bottom of the frame is a small engraved placard commemorating the production run of Your Level SUCKS 2. (Please note that this is a HEAVY item and international shipping may be significantly higher than the other items up for sale.) The poster will be signed and personalized for the winning bidder.
.
Your Level SUCKS 2 "Fan Pack" — Autographed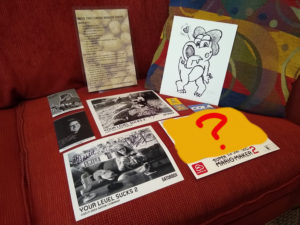 NOTE: THIS IS NOT AN AUCTION. These items are being sold at a flat rate of $11.00 (plus shipping). There is a quantity limit of only 20 so when they are sold out these will be gone for good. Again, this is NOT an auction and these "fan packs" might sell out long before the rest of the auctions end. Inside each flat pack you will receive the following: two 8 x 10″ promotional show photos, two 4 x 6″ cast headshots, one of 20 unique "bad level" sketches (the "?" paper), an 8.5 x 11″ print of a Birdo sketch numbered between 1-20, a laminated recipe page for "bogtor todts", Mario stickers, and a signed & dated COLA card. Of the two 8 x 10″ promotional photos one of them will be me falling off of the rocking horse (seen at the end of the series broadcast) and the second will be a random selection of one of four standard cast photos taken on the show's set. All of the items are flat in order to keep shipping costs as low as possible.
.