Welcome to Gatorbox, a production of Gator Company since 2012.

Right now you're on Gatorbox's official website. Yeah, that's a Van Halen song in the channel trailer over there, and yeah YouTube went ahead and copyright claimed it for the band's label. Doesn't really bother us and that's because as you'll soon see from checking out this stream that it's more about the community than making a quick buck on YouTube.
Gatorbox has been broadcasting since 2012 and since its inception a substantial majority of its funding (90%+) has come from fan support. So yeah, Sammy Hagar can take the 4¢ that video would've made because we know that an awesome trailer like that is what'll grab folks like you looking for an off-the-beaten-path channel to watch and a new online place to call home. Welcome to Gatorbox!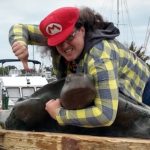 Gatorbox is anchored and produced by Draco, whose full canonical name within the series is "Draco No-Last-Name-Given". He's kind of like Bono, or Cher, in that regard. Just minus the musical talent? Maybe? He began writing comedy in 1995 and throughout the years that followed has recorded spoken-word comedy albums, written and starred in web video series, and sporadically written about video games for various outlets. Draco joined the Gatorbox project in 2012 as one of its initial cast members.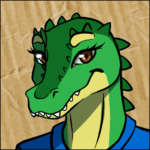 Nessie Devereaux, better known by her abbreviated nickname Ness, is the often seen but rarely heard member of the Gatorbox show. (It's because she's never mic'd up properly, we swear.) Her role in the show is to act as Draco's folly and usually has something snide to say that can be inferred from Draco's responses to her dialog… considering Draco actually speaks into the microphone.
11/29/2020: The final episode of Your Level SUCKS 2 has aired on YouTube. Catch it HERE.
11/10/2020: That's a wrap on Extra Life 2020! Thank you so much for your support, we raised $2,000!
11/6/2020: Don't forget, our Extra Life marathon starts TOMORROW! More details on our official Extra Life page!
10/26/2020: In case you missed it, the VOD of Draco's speedrun for Dreamhack Canada is now on YouTube.
10/20/2020: Our 8th annual Extra Life event is coming up soon! Got an idea for a Game Challenge? Submit it HERE!
10/18/2020: Draco is performing a speedrun of NSYNC: Get to the Show for Dreamhack Canada today. Click HERE for the schedule!
9/22/2020: As we prepare to send off Twitch Sings later this year, we've put together a FAQ page for viewers.
9/18/2020: All eBay listings for Your Anniversary SUCKS have ended. Congrats to the winners!
9/16/2020: Your World SUCKS, a 40-level Super World in SMM2, is available to play! More info HERE.
9/13/2020: Your Anniversary SUCKS is all systems go! Head on over to Twitch to catch it! (10AM-10PM CST)
9/11/2020: eBay auctions for Your Level SUCKS 2 memorabilia goes live! Check our eBay page for details!
9/1/2020: Check out the announcement & teaser for Your Anniversary SUCKS, coming up Sept 13th!
We tell some raunchy jokes and sometimes get into a little bit of trouble on Gatorbox, but ultimately we're a force for good. Here are some video game speedrunning charities we support and have assisted in fundraising with:
[img – Extra Life]
[img – Dreamhack / NoReset]